Admissions open for classroom and online training. Enroll Now.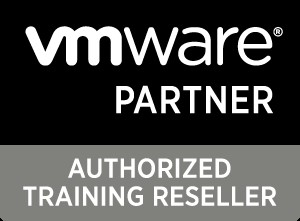 IFS Academy is VMware Authorised Training Reseller offering VMware training and certification programs. IFS Academy - VMware Learning provides training and certification programs to grow your skills and leverage opportunities available with VMware solutions. Students, Faculty and Corporates can appear for VCTA and VCP Certifications at IFS Academy.
Classroom, On Demand, Instructor-Led Online and Self-Paced trainings are offered by IFS Academy on VMware solutions. Our VMware Certified Instructors will teach you the Learning Paths which will help you appearing the VCTA and VCP exams.
About VMware:
VMware offers a breadth of digital solutions that powers apps, services, and experiences which enable organizations to deliver the best customer service and empower employees. VMware streamlines the journey for organizations to become digital businesses that deliver better experiences to their customers and empower employees to do their best work. Our software spans App Modernization, Cloud, Networking & Security and Digital Workspace.
VMware Certification and Badges:
VMware Certifications validate the critical skills required to integrate and manage the technology that drives our customers desired business outcomes. Certifications are organized into multiple technology areas with levels for those new to the industry as well as experts in the field.
VMware Data Center Virtualization certifications are designed to gauge your level of skill designing, installing, and managing VMware vSphere environments in a real world environment.
VMware Certified Professional: For Administrators and Engineers
This level is designed for IT professionals who install, configure, manage, and optimize VMware solutions.
Following Certifications and Badges are available.
Data Center Virtualization

Network Virtualization

Cloud Management and Automation

End-User Computing

Security

Application Modernization
VMware Certification Path
| VCTA Option 1 | VCTA Option 2 | VCP Advanced Module |
| --- | --- | --- |
| Data Center Virtualization (DCV) Track | SDDC Bundle(VCTA-NV, VCTA-DCV) | Data Center Virtualization (DCV) Track VCP-DCV, VCTA-DCV |
| Network Virtualization (NV) Track | Developer Bundle(VCTA-AM, VCTA-DCV) | Developer(AM) Track VCP-Spring, VCTA-AM |
| Developer(AM) Track | | |
| Security (SEC) Track | | |
What's included in VMware kits?
1. VCTA Training
Exam Voucher: 1

Premium Subscription: YES

Deliverables: Single module training & certification
2. VCTA Bundle Training & Certification
Exam Voucher: 3

Premium Subscription: YES

Deliverables: Two module trg & certification bundle offer
3. VCP
Premium Subscription: 1 with reattempt

Virtual Lab: YES. 30 Hrs valid for 45 Days

Deliverables: VCP training & exam. Virtual lab can be utilized twice within 45 days validity.
FAQ's:
VMware Certified Technical Associate (VCTA)
The VMware Certified Technical Associate (VCTA) is a new credential offered by VMware that validates the skills and knowledge required by candidates performing operational tasks within a virtualized infrastructure, in areas across multi-cloud operations, networking, security, and device management. The training provides hands-on practice and learning for both new and experienced technical students.
The VCTA exam is a proctored exam, meaning that as you take the exam, there will be a proctor monitoring the exam, to both protect the integrity of the exam as well as validate that the candidate is answering the questions on their own and not leveraging outside help or resources.
The VCTA is for anyone new to the industry, whether as a newly graduating student, someone changing careers, or someone working in the industry and looking for opportunities to advance. The VCTA is built for those performing an operator job role, consisting of those Day 2 type of regular, repeated tasks typically delegated by administrators of virtualized environments.
The VCTA consists of a 60-90-minute multiplechoice exam.
Prepare for the exam by taking the available training aligned to the same objectives as the exam. This training is online and can be accessed through VMware Customer Connect Learning.
No. The VMware Certified Professional (VCP) exams are for a more advanced, higher-level of certification, aligned to an administrator job role. Experienced candidates may earn the VCP without first earning the VCTA.
You can take the exam at either a Pearson VUE test center or at a home, office or work location using the Pearson OnVue remote proctored solution. When registering for the exam, you will have the option of selecting your location to take the exam.
There is a unique VCTA for each track that the VMware certification program covers. Data Center Virtualization - VCTA-DCV available now Network Virtualization - VCTA-NV available now Security - VCTA-SEC available now Cloud Management and Automation - VCTA-CMA coming soon Digital Workspace - VCTA-DW in development Application Modernization - VCTA-AM in development