Admissions open for classroom and online training. Enroll Now.
SketchUp Pro Online Training Course
Instructor-Led SketchUp Pro Online Training Program
3D Modeling using SketchUp Pro Online Training
IFS Academy is one of the premier institutes in Pune offering 3D Modeling using sketchup online training courses. Join our Google SketchUp online Training to learn from our experienced Trainers and start your first step to become Architectural Designer. Our Sketchup Online training course is designed to support interior designers, construction industry and entertainment related professions.
SketchUp is a 3D modeling computer program for a wide range of drawing applications such as architectural, interior design, landscape architecture, civil and mechanical engineering, film and video game design. Earlier SketchUp was owned by Google and was many a times termed as Google SketchUp. But now SketchUp is owned by Trimble Inc., a mapping surveying and navigation equipment company. It is available as a web-based application, SketchUp Free, a freeware version, SketchUp Make, and a paid version with additional functionality, SketchUp Pro.
Course Overview:
Our Online 3D Modeling using Google SketchUp / Trimble SketchUp course includes topics like Quick Start, Core Concepts, Push Pull & Accuracy, Drawing Tools, Selection & Grouping, Components and Layers, Move Tool, Follow Me and Inference Locking, Importing and Editing Textures, Creating Different Items, Exporting Options, Photorealistic Rendering and LayOut Essentials.
IFS Academy Certificate of completion is issued to the students after successful completion of the training.
Prerequisites:
High configuration Desktop / Laptop with SkethUp Software License preinstalled

Good bandwidth internet connection

Headphones

IFS Academy will provide you Training Input files and exercises Soft Copies in advanced which needs to be stored in your Desktop / Laptop.

Students are requested to make their own important notes for their future reference.

Students should have basic fundamental knowledge of subjects like Engineering Graphics & Civil / Architecture Drawing.
Intended Audience:
Undergraduate Students from Civil Engineering / Architecture

Fresh ITI, Diploma & BE / BTech Civil Engineers & Architects

Architects, Interior Designers, Design Engineers and Civil Engineers who need a thorough knowledge of the features available in the Autodesk Revit Software
Training Features:
Instructor Led Sessions through Zoom, Webex, Microsoft Teams or any other similar Platform

Workshops and Exercises

Live projects and assessments

IFS Academy Authorised Certification of Completion

Industry Need Based Curriculum

Engineering Fundamentals Training

Online Seminars / Webinars from Industry Experts
Assignments
Relevant models will be given to the students which can be created with the help of the commands or features which are taught during the course. These model based assignments will be carried out once or twice in a week based on the complexity of the commands or features.
Case studies:
Practical industrial examples will be considered as case studies where students will not only study the modeling technique involved to create a complex industrial model but also students will study the design considerations and methodologies involved in the creation of the model. These case studies will be taught to students in detail and they will create the model under the guidance of the faculty.
Projects and Test:
Once students are proficient in using all the commands/features and once they have undergone through the practical case studies, individual projects will be assigned to them in groups where they will design and build a model based on Engineering knowledge as well as BIM modeling philosophies of SketchUp. This project and an objective questions test will be the benchmarks to judge the performance of student.
Download Syllabus
| Sr. No. | Course Title | Duration (Hrs.) | Syllabus |
| --- | --- | --- | --- |
| 1 | 3D Modeling using SketchUp Pro | 40 | Download |
Note :
Course fee is inclusive of all taxes.

Course fee is nonrefundable.

Fees can be paid online or in Cash / Cheque / DD. Cheque & DD should be drawn in favor of "IFS Academy" payable at Pune.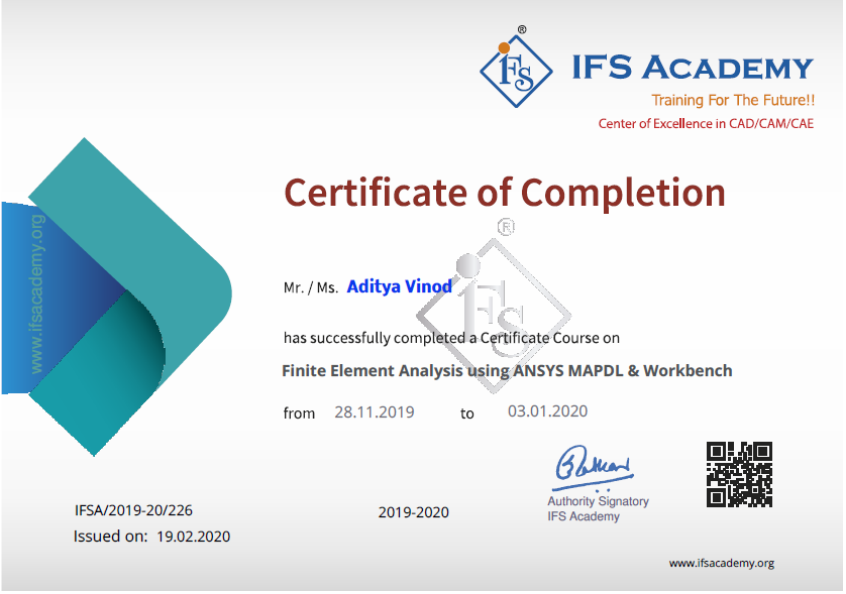 Attend Free Demo before you enroll:
Students can request for a free demo before they enroll themselves for the course. You can send your request thru Call / WhatsApp / Email or put your details in our enquiry form.
Admission Procedure:
Course fees should be paid 100% advance. Last date for paying the fees is Monday, 8th March, 2021.
Once fees is paid, you have to send us an email totraining@ifsacademy.orgwith following details.
Name as per HSC:
Email ID:
Cell No:
Educational Qualification
Brief Work Experience
Specific Training outcome which you are looking at. (We will share this information with our Faculty in advance.)
Documents Required:
Scanned copies of following documents are required to be sent to training@ifsacademy.org after the full course fees is paid along with submission of Online Admission Form.
ID proof

Address proof

Photocopies of 10th, 12th and recent mark sheet of Engineering
You can also pay the fees online:
Account: IFS Academy
Bank and Branch: Axis Bank Ltd., Kothrud Branch, Pune-411038
Account Number: 104010200009058
Account Type: Current
Branch Code: 000104
IFSC Code: UTIB0000104
RTGS Code: Same as above
MICR Code: 411211004
Note: After a successful transaction, you are requested to send the following details to training@ifsacademy.org
Name of the Student:
Course Title:
Amount (Rs./-):
Transaction ID: