Admissions open for classroom and online training. Enroll Now.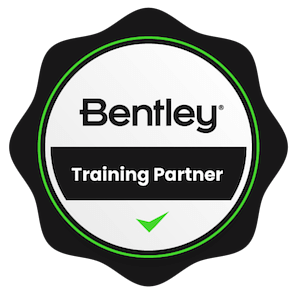 Duration: Three Days
Schedule: Multiple dates available in April, May & June, 2022.
Mode of Training: Instructor-Led Online Training
Bentley OpenFlows SewerCAD SewerGEMS Online Training by Industry Expert
Bentley OpenFlows SewerCAD SewerGEMS Online Training
Overview
The course has been structured to provide in-depth knowledge regarding the basic and advanced theories of sewer hydraulics. Participants shall learn about the effective use and application SewerGEMS software through a live interaction with the trainer and with key case studies. Continuous engagement with the industry expert over the course period helps in better understanding and reinforcing the concepts of sewerage and the sewer hydraulics.
The course, in brief, includes the topics such as sewage demand calculations, Steady State Hydraulic Analysis, Extended Period Simulation of Sewers, Scenarios, Alternatives, Model Builder, Network Navigator to identify critical links or shortfalls within a sewerage collection network system, model analysis and advanced features like calculation of system demands from geospatial data on land use or population, and importing elevation data from digital elevation models.
Learning Objectives
The broad objective of learning is having a hands-on experience to work with SewerGEMS. The course equips you with the required skills and the knowledge to design, analyse and solve real world issues regarding sewage networks.
Who should attend?
Individuals aspiring to upskill in the field of the sewerage networks. Individuals working with Municipal Authorities, Consulting, Construction Management, Contractors, Field Executives, Academicians and Young Engineers.
About the software
If building and preparing your sewer models feels like a never-ending task, OpenFlows SewerGEMS software is for you.
OpenFlows SewerGEMS streamlines the modelling process, so that you have more time for solving wastewater engineering problems, such as improving capacity and limiting sewer overflows, which ultimately enable utilities to comply with sewer regulations set by regulatory agencies.
For more than three decades, OpenFlows SewerGEMS has provided utilities and wastewater professionals like you with advanced engineering tools to plan, design, maintain, and operate sanitary and combined sewer systems, including:
Engineering decision guidance tools: Leverage OpenFlows SewerGEMS' what-if scenario management tools to gain a better understanding of the behaviour of your wastewater system, improving decision making and response time.

Improved model accuracy: A well calibrated model decreases the risks of making poor decisions by ensuring that the model uses the best available data. OpenFlows SewerGEMS calibration tools such as SCADA integration enable you to rely on your model results.

Increased information mobility: OpenFlows SewerGEMS' full GIS, CAD, and SCADA interoperability enables the cost-effective sharing and flow of information between utilities' design, engineering, GIS, and operation departments, and their consultants. You can leverage the data that the utility invested in once and reuse across departments.

OpenFlows SewerGEMS is a superset of OpenFlows SewerCAD.
Course Contents:
Day 1:
Fundamentals of Sanitary Engineering

Fundamental Hydraulics of Sewerage networks

SewerGEMS CONNECT Edition Interface and Features

Basic Hydraulic Modeling of Sewerage Networks

Q & A Session / Adjourn
Day 2:
Automatic Network Development Tools in SewerGEMS

1. Model Builder

2. TRex

3. Load Builder

Steady state and Extended Period Simulation

Hydraulic Network Design

Optimizing Sewer Districts

Q & A Session / Adjourn
Day 3:
Scenarios and Alternatives

Case Study, Region: Urban India

Q & A Session / Adjourn
Faculty Profile
Expert Water Professional with vast experience in the Design and Implementation of Water Distribution Networks, Wastewater Collection Networks, and Hydraulic Transmission Systems. Has worked for large scale Municipal and Industrial projects. He holds a Masters Degree in Civil Engineering with a specialization in Environmental Engineering.
Software Expertise: Bentley's WaterGEMS, Bentley's SewerGEMS, QUANTUM GIS (QGIS), EPANET, Autodesk SSA
SCertificate:
Bentley Institute Authorised Certificate of Completion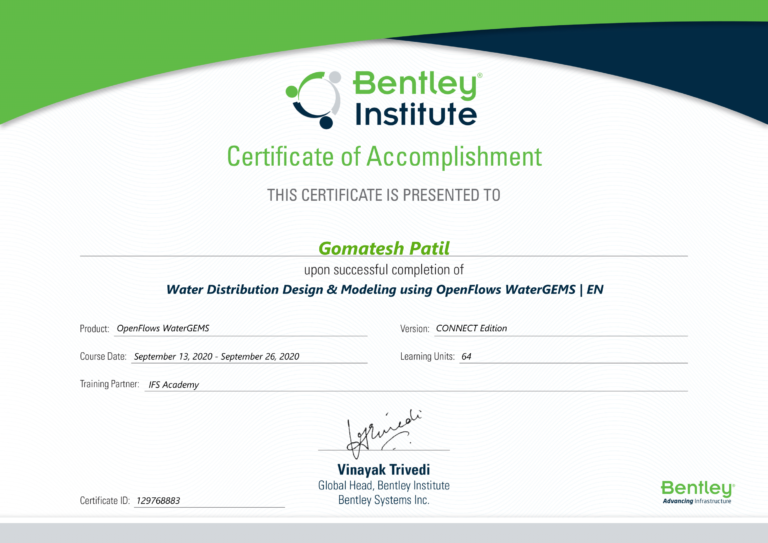 Software:
IFS Academy will provide 1 Month Evaluation Copy of OpenFlows SewerGEMS s/w to each Training Participant.
BI Press Institute Subscription:
IFS Academy will provide 1M login access to BI Press Institute Subscription.
Admission Procedure:
Course fees should be paid 100% advance. Last date for paying the fees is Monday, 8th March, 2021.
Once fees is paid, you have to send us an email totraining@ifsacademy.orgwith following details.
Name as per HSC:
Email ID:
Cell No:
Educational Qualification
Brief Work Experience
Specific Training outcome which you are looking at. (We will share this information with our Faculty in advance.)
You can also pay the fees online:
Account: IFS Academy
Bank and Branch: Axis Bank Ltd., Kothrud Branch, Pune-411038
Account Number: 104010200009058
Account Type: Current
Branch Code: 000104
IFSC Code: UTIB0000104
RTGS Code: Same as above
MICR Code: 411211004
Note: After successful transaction, you are requested to send following details to: training@ifsacademy.org
Name of the Student:
Course Title:
Amount (Rs./-):
Transaction ID:
If you have any questions, please don't hesitate to get in touch with us by emailing at training@ifsacademy.org or calling +91-7669293397.