Admissions open for classroom and online training. Enroll Now.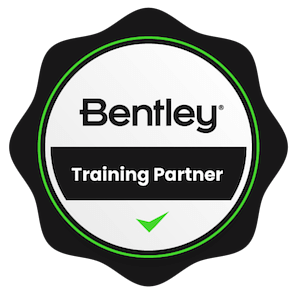 Mode of Training: Instructor-Led Online Training
Duration: Five Days (8 Hrs. / Day)
Schedule: Multiple batches available in April, May & June, 2022
Last Date of Registration: Please register 3 days in advance.
Water Distribution Design & Modeling by Bentley WaterCAD / WaterGEMS
Bentley OpenFlows WaterGEMS Online Training
Introduction
Bentley's Hydraulic and Hydrological (H&H) modeling tools offer geospatially integrated engineering modeling solutions for water and wastewater projects and act as a comprehensive engineering tool for design and analysis as a water project governance through the IT corridor. Application of H&H soft tools connect every facet of projects and simplifying the complex project workflow in an easier format to make informed decisions. Tools address today's water project challenges with easy to use features in line with Indian CPHEEO guidelines and have the flexibility to incorporate local state advisory principles along with best practices.
TYPES OF WATER SUPPLY PROJECTS SOFTWARE USED: WATERGEMS
Urban water / Rural water supply projects
Intermittent water / 24×7 water scheme
Tentative/approximate cost of the projects
Expansion and rehabilitation of water distribution network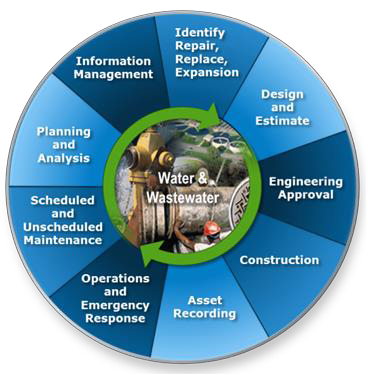 Why Bentley's Infrastructure Tools?
Bentley offers fully integrated tools, which have capabilities to render an end-to-end range of functionality across the entire lifecycle of a project.
Designers and operators get a detailed picture of system behavior under various conditions before the system is being built and more accurately predict the way the system will react under various circumstances. It ultimately reduces disruption risks and improves system reliability in every stage of the project.
About Training
IFS Academy is Bentley Institute's Authorised Product Training Partner and offers professional online training for users to master the capabilities on Hydraulic and Hydrology modeling tools and apply best practices to improve design skills, increase productivity, and enhance infrastructure project quality. This course will qualify participants to get acquitted with project modeling basics for project design and project operations.
Enabled participants to understand the importance and uses of hydraulic simulation models and comprehend the essential concepts of Modeling

Introduce different engineering workflow in project development

Demonstrate the utility of various forms of data from Geospatial to AutoCAD files (virtually any form of digital data) for projects
Brief Outline of training
This class begins with the basics of hydraulics theory, as it applies to water distribution modeling, then takes students through more advanced topics such as: working with multiple scenarios and alternatives; model creation; pump selection; steady-state analysis; extended-period simulation; fire flow analysis; identifying critical links or shortfalls within a water system; automating system calibration, design, model analysis, and Specific topics will include: developing system demands from geospatial data on land use or population, etc.; importing elevation data from digital elevation models; Students will become familiar with WaterCAD/WaterGems, sewercad sewergems online training and use the software to reinforce concepts with case studies or hands-on examples. As WaterCAD and WaterGEMS capabilities are the same throughout this course, users will gain an understanding of both software applications. Live training courses are very interactive. Students will continually engage with the instructor to ensure a successful learning outcome that includes a course assessment.
Skill taught
After completing this course, the user will be able to:
Apply the basic principles of water distribution modeling;

Gain essential knowledge for water system design, operation, and troubleshooting;

Apply WaterCAD/WaterGEMS models to solve common water distribution system problems;

Develop a deeper understanding of model creation and analysis using WaterCAD/WaterGEMS;

Increase productivity by using automated approaches to complete common modeling tasks
Syllabus/Topic Covered
Basics of Hydraulics

Overview of Water Distribution Design & Modeling

Using Water Distribution Models

Automated Building a Network using Model Builder

Building a Network with Pumps, Tanks, and PRVs

Assigning Values via Using Flex Tables

Extracting elevation data using Trex

Model Builder

Trex

Load Builder

Darwin Designer

Pipe inventory and cost

Extended Period Simulation

Alternatives and Scenarios

Building a Water Model

Pump Selection

Reviewing Results
About Online Training?
The training will be conducted online via Webex / Teamviewer or other available tools. Partcipants can interact with our Faculty live during the sessions.
Course dataset – You will get course instructions and data sets via email from institute with important instructions for the course, including the dataset link that will need to be downloaded and installed.
Software Version – IFS Academy will send you 1 Month trial license code and the media files of WaterGEMS Software well in advance as soon as your registration is done.
Communication – Participants can communicate with our Faculty thru mails as well as thru headphones. Using headphones, they can interact live with the Faculty.
Online Training Setup – IFS Academy will share the online training setup link which needs to be installed on your personal Laptop before the commencement of the course.
Layout – Though not required, dual monitors may provide you a more comfortable work environment during the course. i.e., Monitor 1-running the WaterGEMS Software & Monitor 2-showing the course manual PDF.
Note:
Training contents and duration are subject to change as per participant's interaction, inputs, requirements and their skills.

We will provide Practice Examples Material in electronic format for the training classes only.

We will provide Evaluation Copy of WaterGEMS s/w to each Training participants for their Workstation used during the training period.
Faculty Profile
Faculty is M.Tech. Water Resources Engineering from IIT, Bombay and having more than 10 years of varied experience including Planning, Design and Detailed Engineering, Implementation, Supervision of large / complex Water Supply /Sewerage/ Storm water projects. He has experience in Hydraulic aspects of Water Supply /Sewerage/ Storm water schemes (simple/complex) and have working experience in designing Headwork's, Water treatment plant, pipelines, valves with their pressure ratings and locations, surge analysis, water hammer design etc. He is well versed with applicable software and latest national and international Codal provisions.
Software Expertise: WaterGEMS, SewerGEMS, EPANET, HEC-RAS, AutoCAD, Civil 3D, Navis Works, Arc GIS
Certificate: Bentley Institute Certificate of Completion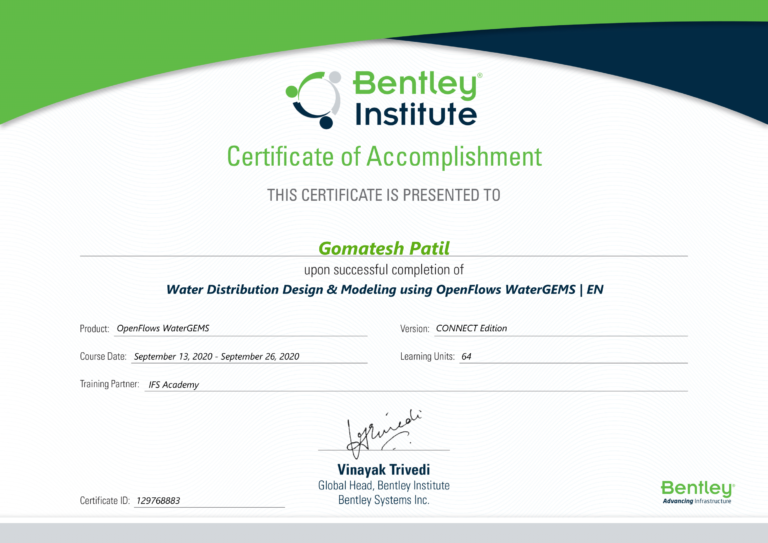 Software:
IFS Academy will provide 1 Month Evaluation Copy of OpenFlows WaterGEMS s/w to each Training Participant which can be installed on their personal Laptop. Participants can confirm their participation in advance and come along with their personal laptops with Software preinstalled on it.
BI Press Institute Subscription:
IFS Academy will provide 1 Month login access to BI Press Institute Subscription.
Admission Procedure:
Course fees should be paid 100% advance. Last date for paying the fees is Monday, 8th March, 2021.
Once fees is paid, you have to send us an email totraining@ifsacademy.orgwith following details.
Name as per HSC:
Email ID:
Cell No:
Educational Qualification
Brief Work Experience
Transaction ID (towards the payment transferred online):
Specific Training outcome which you are looking at. (We will share this information with our Faculty in advance.)
You can also pay the fees online:
Account: IFS Academy
Bank and Branch: Axis Bank Ltd., Kothrud Branch, Pune-411038
Account Number: 104010200009058
Account Type: Current
Branch Code: 000104
IFSC Code: UTIB0000104
RTGS Code: Same as above
MICR Code: 411211004
Note: After successful transaction, you are requested to send following details to: training@ifsacademy.org
Name of the Student:
Course Title:
Amount (Rs./-):
Transaction ID:
If you have any questions, please don't hesitate to get in touch with us by emailing at training@ifsacademy.org or calling +91-7669293397.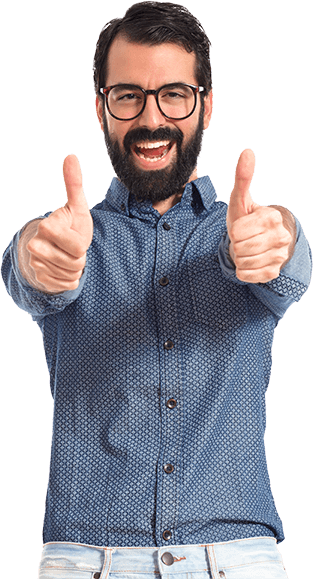 I have recently completed Bentley WaterCAD / WaterGEMS training from IFS Academy. IFS Academy is Bentley Institute Authorized Product Training Partner for Bentley Systems Software and they offer Bentley Institute Authorized Certificate of Completion to the participants. They also give 1M trial license of the Software to the participants. WaterGEMS Faculty is from industry with vast experience in the field of Water and Waste Water distribution. We were really pleased with the training given by IFS Academy. We have been to several Water Network design and Analysis training elsewhere, the course by IFS is significantly better due to the qualified instructor and resources. We highly recommend IFS Academy for Bentley WaterGEMS Training to Students, Faculty and Working Professionals.