Admissions open for classroom and online training. Enroll Now.
Tekla Structural (Steel) Design Course
Instructor-Led Tekla Structural (Steel) Online Training Program
IFS Academy offers Instructor-Led Online Training Courses using Tekla Software. Our Tekla Training portfolio includes in depth hands on online training on Tekla Structural Steel Fundamentals and Tekla Structural Designer. Course contents includes modules like Tekla Structures for Bridge Designers, Concrete Contractors, Rebar Detailers and BIM fundamentals. Training is delivered by Industrial Working Professionals having rich experience on Tekla Software. Our Virtual training courses at basic and advanced levels give you the confidence and skills to be more productive with Tekla software.
Tekla Structures:
Tekla is one of the most powerful Structural BIM Software used by the industries. With Tekla Structures, you can create, combine, manage and share information with remarkable efficiency. Tekla Structures is used by structural engineers, designers, detailers, fabricators, contractors and project managers. Tekla adopts truly constructible BIM process and delivers reliable project information in less time. One can Import, export and link your model data with other project parties, software, digital construction tools, and machinery for smoother workflows. By using BIM Collaboration tool, we can work from anywhere, anytime, alone or in distributed teams. Teams can work on the same model at the same time while avoiding colliding work.
Course Overview:
IFS Academy offers complete Tekla Structures (Steel) Online Training Course which imparts designing and detailing skills to professionals of all levels ranging from beginner to experts. The Beginning of this course will provide you with the basic knowledge and skills to get you started with Tekla Structures. As the course progresses, you will develop your Tekla Structures abilities with a key focus on steel models, working through a series of practical examples and exercises.
Prerequisites:
High configuration Desktop / Laptop with Tekla Software License preinstalled

Good bandwidth internet connections

Headphones

IFS Academy will provide you Training Input files and exercises Soft Copies in advanced which needs to be stored in your Desktop / Laptop.

Students are requested to make their own important notes for their future reference.

Students should have basic fundamental knowledge of subjects like Structural Design & Analysis.
Intended Audience:
Civil Engineers

Mechanical Engineers

Welding Engineers

Civil Engineering Students

Civil Technicians

Technical Draftsman

Those who work in Steel Structure Projects

Those who want to improve their skills in drawing Steel Structure Projects
Training Features:
Instructor Led Live Sessions through Zoom, Webex, Microsoft Teams or any other similar Platform

Workshops and Exercises

Live projects and assessments

IFS Academy Certification of Completion

Industry Need Based Curriculum

Engineering Fundamentals Training

Online Seminars / Webinars from Industry Experts
Assignments:
Relevant models will be given to the students which can be created with the help of the commands or features which are taught during the course. These model based assignments will be carried out once or twice in a week based on the complexity of the commands or features.
Case studies:
Practical industrial examples will be considered as case studies where students will not only study the modeling technique involved to create a complex industrial model but also students will study the design considerations and methodologies involved in the creation of the model. These case studies will be taught to students in detail and they will create the model under the guidance of the faculty.
Projects and Test:
Once students are proficient in using all the commands/features and once they have undergone through the practical case studies, individual projects will be assigned to them in groups where they will design and build a model based on Engineering knowledge as well as structural analysis philosophies of Tekla Structures. This project and an objective questions test will be the benchmarks to judge the performance of student.
Courses Offered:
| Sr. No. | Course Title | Duration (Hrs.) | Syllabus |
| --- | --- | --- | --- |
| 1 | Tekla Structural (Steel) Design | 50 | Download |
| 2 | Advanced Tekla Structural (Steel) Design | 60 | Download |
Note:
Course duration is inclusive of Lectures, Practicals, Assignments and Home Work. Short Live Case Study Project will be given at the end of the training which needs to be completed by the Student and its report has to be submitted to the respective Faculty.

Course fee is inclusive of all taxes

Course fee is nonrefundable.

Fees can be paid online or in Cash / Cheque / DD. Cheque & DD should be drawn in favor of "IFS Academy" payable at Pune.
Sample Copy of IFS Academy Authorised Certificate of Completion:
This Certificate (Soft Copy) is issued to the students after successful completion of the training.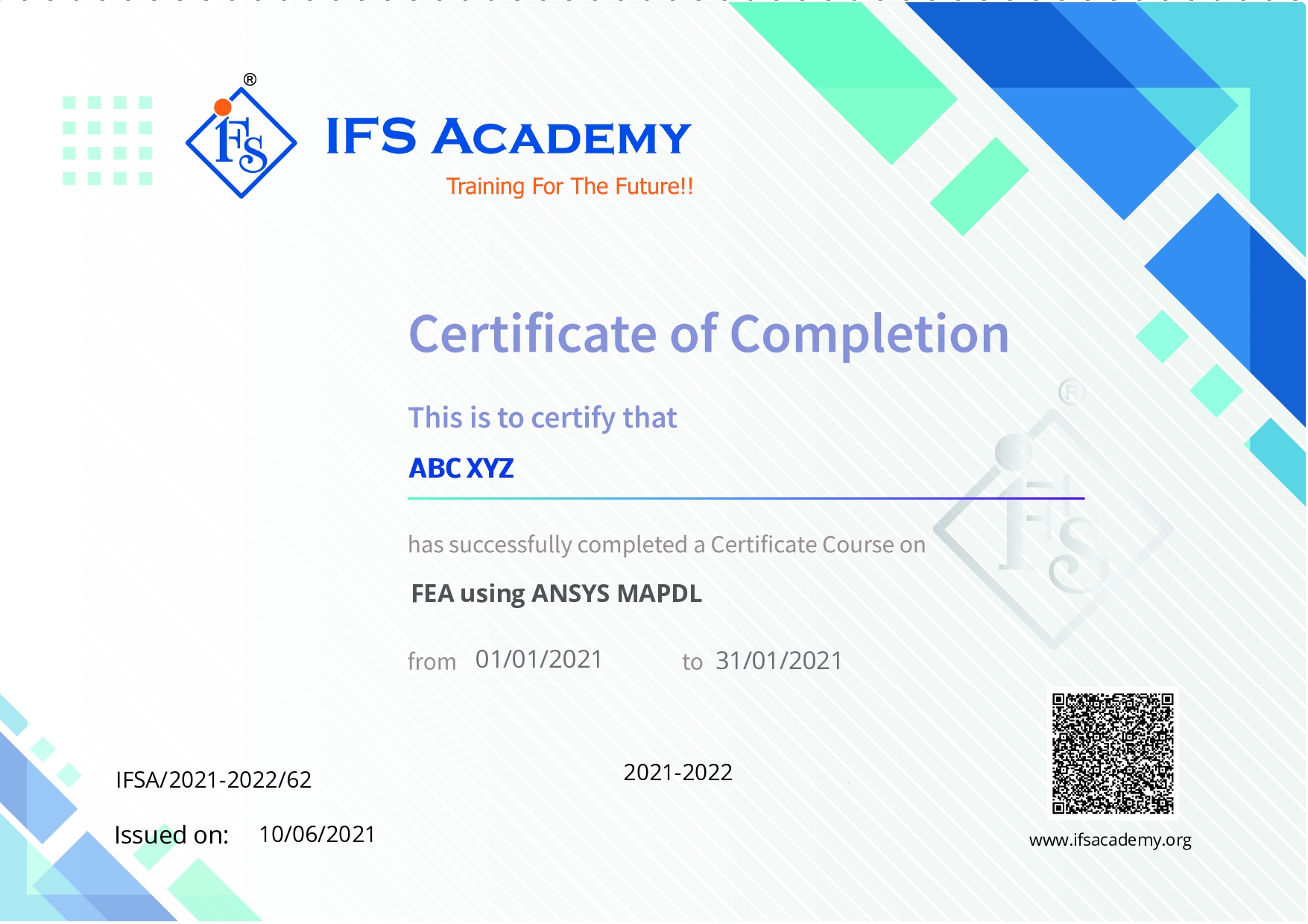 Attend Free Demo before you enroll:
Students can request for a free demo before they enroll themselves for the course. You can send your request thru Call / WhatsApp / Email or put your details in our enquiry form.