Admissions open for classroom and online training. Enroll Now.

Building Estimation and Costing Online Training
Instructor-Led Online Training Program
IFS Academy is the #1 training institute offering Building Estimation and Costing Online Training. This course is designed as an introduction for students wishing to develop their competence and skills in the preparation of building estimating, costing, and tendering. Our online course on Building Estimation and Costing can help engineers and estimators make material costing faster, easier, and more accurate. The course is useful for civil engineering and architectural students and professionals.
On completion of the course, you should be able to build-up rates and prepare an estimate based on a Bill of Quantities. Estimation is the process of calculating the approximate cost and quantity of material for any project. It is always the most important part of any project. Like all the other processes, from the issuing of Tender to preparing of design, the quantity of material to final completion of the project all the things directly or indirectly dependent on the funds we have. Estimation of the project is prepared by reading drawings and with the rates following by CSR and DSR issued by the State Govt. and the Central Govt. In short, Construction estimators work to make the final report on the project, regarding the time and cost of particular construction projects. In the ZCC Group course, students will learn to analyze the Costs of residential and commercial properties.
Course Overview:
IFS Academy offers complete Building Estimation & Costing Online Training Course. The following topics shall be covered during the Online Course.
Introduction to Building Estimation and Costing

Building Quantities (Takeoff)

Rate Analysis

Bill of Quantity

Role of Billing Engg.

Taking measurements (Auto CAD & MS Excel)

Mode of measurements (IS:1200)

Reports

Introduction to Specification & Tenders
Prerequisites:
High configuration Desktop / Laptop with Microsoft Excel Software License preinstalled

Good bandwidth internet connection

Headphones

IFS Academy will provide you Training Input files and exercises Soft Copies in advance which needs to be stored in your Desktop / Laptop.

Students are requested to make their own important notes for their future reference.

Students should have a basic fundamental knowledge of the subject: Building Estimation & Costing
Intended Audience:
Any Student or Working Professional in the field of Civil Engineering / Civil Diploma / Architect.
Training Features:
Instructor-Led Sessions through Zoom, Webex, Microsoft Teams or any other similar Platform

Workshops and Exercises

IFS Academy Certificate of Completion

Live projects and assessments

Industry Need Based Curriculum

Engineering Fundamentals Training

Online Seminars / Webinars from Industry Experts
Assignments:
Relevant assignments will be given to the students which can be created with the help of the commands or features which are taught during the course. These assignments will be carried out once or twice in a week based on the complexity of the commands or features.
Case studies:
Practical industrial examples will be considered as case studies where students will work on these live case studies and prepare Building Estimation and Costing Reports and submit them. These case studies will be taught to students in detail and they will work under the guidance of the faculty.
Projects and Test:
Once students are proficient in using all the commands/features and once they have understood the fundamental theory of estimation and costing, individual projects will be assigned to them in groups where they will complete the Building Estimation and Costing Project. This project and an objective questions test will be the benchmarks to judge the performance of the student.
Courses Offered:
| Sr. No. | Course Title | Duration (Hrs.) | Syllabus |
| --- | --- | --- | --- |
| 1 | Building Estimation & Costing | 40 | Download |
Note:
The course fee is inclusive of all taxes.

The course fee is nonrefundable.

Fees can be paid online or in Cash / Cheque / DD. Cheque & DD should be drawn in favor of "IFS Academy" payable at Pune.
Sample Copy of IFS Academy Authorised Certificate of Completion: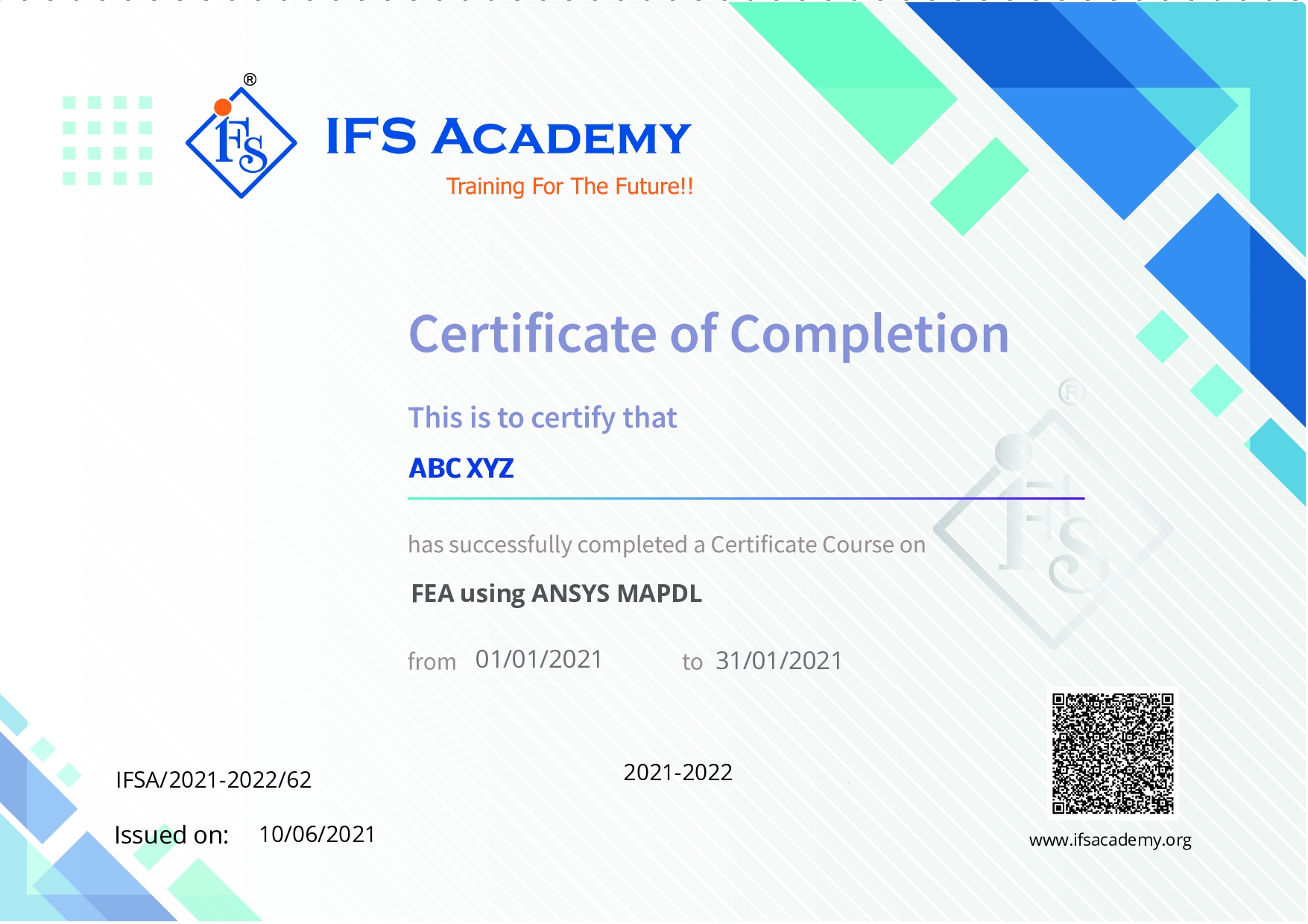 Attend Free Demo before you enroll:
Students can request for a free demo before they enroll themselves for the course. You can send your request thru Call / WhatsApp / Email or put your details in our inquiry form.
Admission Procedure:
Students are requested to pay their full course fees online in advance as per the Bank Account details given below. After making the payment, the student is requested to send the following information at training@ifsacademy.org
Name as per HSC:
Email ID:
Cell No:
Company / Organisation Name:
College:
Transaction ID (towards the payment transferred online):
After confirming the receipt of payment, we will send you a link to our Online Admission Form. Once we receive your Admission Form, we will mail you the detailed Online training schedule (Online Web Meeting Invite) along with other deliverables.
Documents Required:
Scanned copies of the following documents are required to be sent to training@ifsacademy.org after the full course fees are paid along with submission of the Online Admission Form.
ID proof

Address proof

Photocopies of 10th, 12th and recent mark sheet of Engineering
You can also pay the fees online:
Account: IFS Academy
Bank and Branch: Axis Bank Ltd., Kothrud Branch, Pune-411038
Account Number: 104010200009058
Account Type: Current
Branch Code: 000104
IFSC Code: UTIB0000104
RTGS Code: Same as above
MICR Code: 411211004
Note: After successful transaction, you are requested to send following details to: training@ifsacademy.org
Name of the Student:
Course Title:
Amount (Rs./-):
Transaction ID: