Admissions open for classroom and online training. Enroll Now.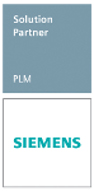 IFS Academy is SIEMENS PLM Software Authorised Training Partner organising NX CAD and NX CAM Training, UG NX / Unigraphics CAD/CAM training Programs with SIEMENS PLM Software Authorised Certification to the students in Pune.
Our Siemens PLM Authorized Training Partner program addresses the need for skilled resources by using requisite instruction and curriculum on Siemens PLM Software products. We provide courses at our own training centres to engineering undergraduates, graduates and working professionals. We also offer certification through Siemens PLM Software designed tests to professionals wishing to prove proficiency.
Our NX CAD portfolio includes NX CAD Design Engineer, NX CAD Advanced Course followed by industry domain-oriented courses.
Course contents are prepared as per the SIEMENS PLM Software Learning Solutions. NX CAD industry domain-based training programs include NX for Design in which we teach domains like Product Modeling, Design Interoperability, Design Validation, Drafting and Documentation, Industrial Design and Styling, Knowledge Reuse, Mechatronic Concept Design, P&ID Design, Routed Systems and Workflow.
Other domain-oriented NX CAD Courses includes Tool & Die Design, NX CAM, Plastic Trims, Automotive Design, Sheet Metal Design, GD&T and many more.
NX CAM Course includes CAM Manufacturing Fundamentals, CAM Turning Manufacturing Process, CAM Fixed-axis and Multi-axis Milling and CAM Post Building Techniques. We invite Industry Working Professionals who are having expertise in Computer-Aided Manufacturing in Turning, Drilling, Milling, Turn-Mill and Wire EDM domain as Visiting Faculty. Their industrial experience helps our students to learn the Software at par with industry expectations.
Siemens NX software is a flexible and powerful integrated solution that helps you deliver better products faster and more efficiently. NX delivers the next generation of design, simulation, and manufacturing solutions that enable companies to realize the value of the digital twin.
Supporting every aspect of product development, from concept design through engineering and manufacturing, NX gives you an integrated toolset that coordinates disciplines, preserves data integrity and design intent, and streamlines the entire process.
NX CAM provides comprehensive and integrated NC programming capabilities in a single system. This enables the use of consistent 3D models, data and processes to seamlessly connect planning and shop floor operations with a digital thread.
You can streamline and automate NC programming, while reducing cycle time, using powerful, application-specific tools. From 2.5-axis machining and mould manufacturing to simultaneous 5-axis milling and high-volume production, NX allows you to use one CAM software to make better parts faster.
At the end of the course, each student gets a soft copy of SIEMENS PLM Software Authorised Training Manual & Certificate of Completion.
Salient Features:
Industry need-based course curriculum

Globally recognized SIEMENS PLM Software Certificate of Merit on successful course completion

SIEMENS PLM Software Training Manual on NX CAD

Opportunity to learn from SIEMENS PLM Software Certified Instructors

Placement opportunities thru SIEMENS PLM Software ATP

Exposure to live projects

Engineering Fundamentals Training

Seminars and Visiting Lectures from Industry Experts
Course Certification: SIEMENS PLM Software Certificate of Merit
Course Eligibility:
Students who are undergoing / completed Degree / Diploma in Mechanical / Production / Automobile Engineering

ITI Mechanical Draftsman

Faculty / Working Professionals
Course Duration and Fees:
| Sr. No. | Course Title | Duration (Hrs.) | Syllabus |
| --- | --- | --- | --- |
| 1 | NX CAD (Formerly known as Unigraphics) for Design Engineer | 90 | Download |
| 2 | NX CAD (Formerly known as Unigraphics) Advanced Course | 120 | Download |
| 3 | Computer-Aided Manufacturing using NX CAM | 40 | Download |
The course fee is inclusive of all taxes.

The course fee is nonrefundable.

Fees can be paid in Cash / Cheque / DD. Cheque & DD should be drawn in favour of IFS Academy payable at Pune.
You can also pay the fees online:
Account: IFS Academy
Bank and Branch: Axis Bank Ltd., Kothrud Branch, Pune-411038
Account Number: 104010200009058
Account Type: Current
Branch Code: 000104
IFSC Code: UTIB0000104
RTGS Code: Same as above
MICR Code: 411211004
Note: After a successful transaction, you are requested to send the following details to training@ifsacademy.org
Name of the Student:
Course Title:
Amount (Rs./-):
Transaction ID: