Admissions open for classroom and online training. Enroll Now.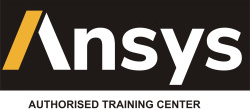 Instructor-Led ANSYS for Civil / Structural Engineers Online Training & Certification
ANSYS for Civil / Structural Engineers Online Training
IFS Academy is ANSYS Authorised Training Center in India offering ANSYS FEA for Civil Engineering Online Training Programs. Our ANSYS courses are designed to meet the requirements of Students, Working Professionals and Academic users. The course is conducted by industrial working professionals having vast experience in FEA using ANSYS Tool in Civil Engineering domain thru Online Learning Platforms. Our Instructor-Led ANSYS FEA Online Training will help you in building your FEA/CAE Skills required by Civil Structural Design industry using ANSYS tool. Post this course, you can join any Simulation / Structural Design Consultancy company as a FE Analyst / CAE Engineer.
IFS Academy offers comprehensive library of ANSYS FEA instructor-led online courses and assessments. Our leading experts provide in-depth instruction and practice along with our Try It exercises. At the end of the course, ANSYS Authorised Training Center Certificate of Completion is issued to the students. Earning ANSYS certification helps you stand out among your peers and be part of our growing community of certified users.
ANSYS Solutions can be applied to a wide variety of industries like Automotive, Aerospace and Defense, Construction, Consumer Goods, Energy, Health Care, High-Tech, Industrial Equipment and Rotational Machinery and Materials.
Course Overview:
IFS Academy offers complete ANSYS for Civil / Structural Engineers Online Training Course. This course covers Finite Element Analysis Theory and different types of Finite Element Analysis like Static Structural, Modal, Harmonic, Transient Dynamic, Buckling, Random Vibrations and Response Spectrum Analysis. While imparting the training, we use ANSYS Spaceclaim, ANSYS Design Modeler, ANSYS Workbench & ANSYS Mechanical APDL.
About ANSYS Mechanical APDL:
The Ansys finite element solvers enable a breadth and depth of capabilities unmatched by anyone in the world of computer-aided simulation.  Thermal, Structural, Acoustic, Piezoelectric, Electrostatic and Circuit Coupled Electromagnetics are just an example of what can be simulated.  Regardless of the type of simulation, each model is represented by a powerful scripting language … the Ansys Parametric Design Language (APDL).  APDL is the foundation for all sophisticated features, many of which are not exposed in the Workbench Mechanical user interface.  It also offers many conveniences such as parameterization, macros, branching and looping, and complex math operations.  All these benefits are accessible within the Ansys Mechanical APDL user interface.
About ANSYS Workbench:
The ANSYS Workbench platform is a framework upon which ANSYS has developed a suite of advanced engineering simulation applications. Workbench incorporates bi-directional CAD connectivity, pervasive parameter management and integrated optimization tools. ANSYS Workbench hosts numerous applications spanning many engineering disciplines like Mechanical, Design Exploration, Design Modeler & Autodyn.
Prerequisites:
High configuration Desktop / Laptop with ANSYS Software (MAPDL &/OR Workbench) License preinstalled

Good bandwidth internet connection

Headphones

IFS Academy will provide you Training Input files and exercises Soft Copies in advanced which needs to be stored in your Desktop / Laptop.

Students are requested to make their own important notes for their future reference.

Students should have basic fundamental knowledge of subjects like Applied Mechanics, Strength of Materials, Machine Design and Physical Metallurgy.
Intended Audience:
Undergraduate Students from Civil Engineering

Civil & Structural Engineers

ME / M Tech Civil / Structural Engineering Students

Design Engineers / Working Professionals
Training Features:
Instructor Led Sessions through Zoom, Webex, Goto Meeting, Microsoft Teams or any other similar Platform

Workshops and Exercises

Live projects and assessments

ANSYS Authorised Certification of Completion

Access to the content downloaded from ANSYS Learning Hub to our Instructors

Industry Need Based Curriculum

Engineering Fundamentals Training

Seminars / Webinars from Industry Experts
Assignments:
Relevant models will be given to the students which can be created with the help of the commands or features which are taught during the course. These model based assignments will be carried out once or twice in a week based on the complexity of the commands or features.
Case studies:
Practical industrial examples will be considered as case studies where students will not only study the modeling technique involved to create a complex industrial model but also students will study the finite element analysis of these models. These case studies will be taught to students in detail and they will create the model under the guidance of the faculty.
Projects and Test:
Once students are proficient in using all the commands/features and once they have undergone through the practical case studies, individual projects will be assigned to them in groups where they will design and build a model based on Engineering knowledge as well as FEA using ANSYS. This project and an objective questions test will be the benchmarks to judge the performance of student.
Courses Offered:
| Sr. No. | Course Title | Duration (Hrs.) | Syllabus |
| --- | --- | --- | --- |
| 1 | ANSYS for Civil / Structural Engineers | 40 | Download |
Course fee is inclusive of all taxes.

Course fee is nonrefundable.

Fees can be paid in Cash / Cheque / DD. Cheque & DD should be drawn in favour of IFS Academy payable at Pune.
Sample Copy of ANSYS Authorised Certificate of Completion:
This Certificate (Soft Copy) is issued to the students after successful completion of the training.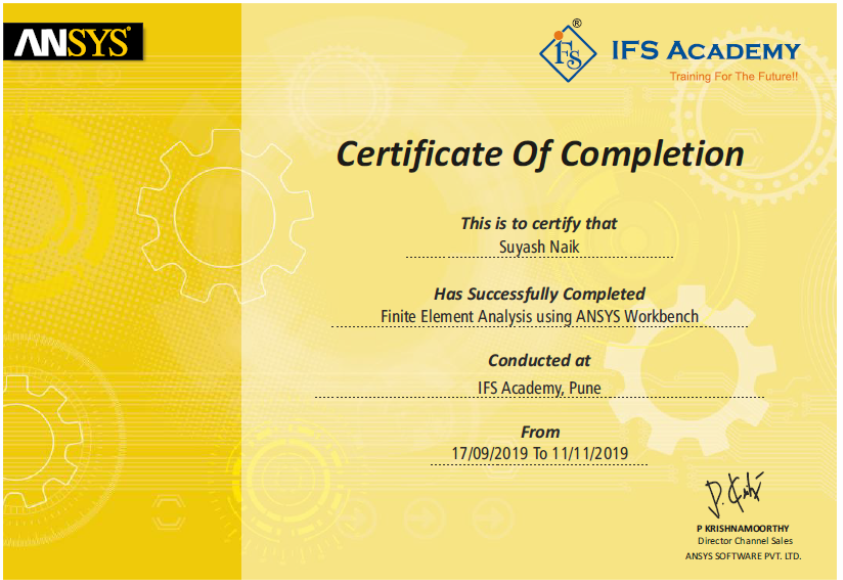 Attend Free Demo before you enroll:
Students can request for a free demo before they enroll themselves for the course. You can send your request through Call / WhatsApp / Email or put your details in our enquiry form.
You can also pay the fees online:
Account: IFS Academy
Bank and Branch: Axis Bank Ltd., Kothrud Branch, Pune-411038
Account Number: 104010200009058
Account Type: Current
Branch Code: 000104
IFSC Code: UTIB0000104
RTGS Code: Same as above
MICR Code: 411211004