Admissions open for classroom and online training. Enroll Now.

IFS Academy is Dassault Systemes Authorised Certification Center for CATIA. We offer Dassault Systemes CATIA Certification Program. Dassault Systèmes' certification program provides customers, users, partners and students with a globally valuable index for measuring their knowledge and skills against market norms and promoting their proved competency within the PLM ecosystem.
As a Certified CATIA Associate, you demonstrate that you have achieved a robust level of fundamental knowledge and hands-on experience of CATIA modelling techniques in using CATIA.
The CATIA Specialist Certification demonstrates that you have broadened your knowledge and skills by achieving competence in two of the Associate areas.
As a Certified CATIA Expert, you can boost your competitive advantage by validating your advanced level of expertise. This certification demonstrates that you have extensive knowledge and hands-on experience in leveraging the optimum results from CATIA solutions.
The certification program also offers valuable feedback on training programs by providing a quantitative before-and-after measurement of trainees' acquired skills. Dassault Systèmes certification is in continuously increasing demand as a skill differentiator required by the industry.
CATIA learning at an early stage helps these students in developing their future career in Mechanical Engineering Design. Many Engineering institutes/colleges have signed MoU with us for conducting a Dassault Systemes Authorised Certification Training Program in CATIA V5.
Course contents have been prepared as per the guidelines laid down by 3DS Learning Solutions and inputs from Industry Working Professionals. At the end of the course, each student receives a soft copy of Dassault Systemes Authorised Certificate of Completion with 1 Month access to CLS (Companion Learning Space). Students can further appear for Dassault Systemes CATIA Certification Exams at IFS Academy to test their learning and get themselves certified on CATIA.
Certification Benefits:
Certification is a key success factor for Students and Individuals to obtain better-paid job opportunities and increased recognition.
By getting certified you demonstrate your expertise and prove your capability to differentiate yourself from the others in today's increasingly competitive job market. Certification brings credibility to your Curriculum Vitae, leading to significant opportunities for career growth.
Key benefits are
Increased employability

Better paid job opportunities

Salary increase

Career recognition
Exams Description
CATIA Part Design Exam

CATIA Assembly Design Exam

CATIA Surface Design Exam
Certification Titles
Each individual exam gives a certificate entitled 'Associate'.
When you pass with success two exams you receive a certificate entitled 'Specialist':
'CATIA Mechanical Designer Specialist' = CATIA Part Design + CATIA Assembly Design exams
'CATIA Mechanical Surface Designer Specialist' = CATIA Part Design + CATIA Surface Design exams
Expert
As a Certified CATIA Expert, you prove your knowledge and skills with CATIA advanced modelling techniques after solid training and between six and twelve months of advanced hands-on practice and work experience* in either Part, Assembly or Surface Design.
CATIA Part Design Expert Exam

CATIA Assembly Design Expert Exam

CATIA Surface Design Expert Exam
Validating your Certification
When you successfully pass an exam an electronic certificate is automatically generated by the tester and stored in your user account.
Electronic certificates are secured. They show a unique identifier and a QR code that allows you to authenticate your certification online.
In addition to the electronic certificate, you also receive a label that you can use to promote your certification. This label is stored in your account together with your certificate.
For further details about Dassault Systemes Certification, please visit
https://www.3ds.com/training/certification-program/certification-for-individuals-and-customers/
Or write to us at: training@ifsacademy.org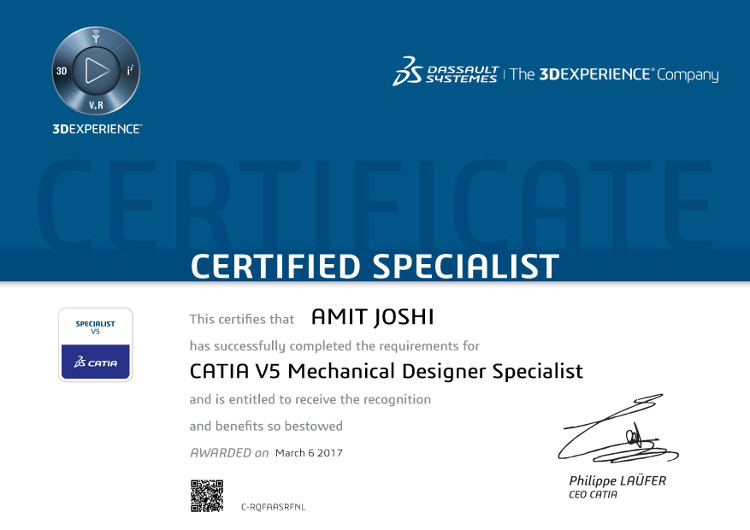 You can also pay the fees online:
Account: IFS Academy
Bank and Branch: Axis Bank Ltd., Kothrud Branch, Pune-411038
Account Number: 104010200009058
Account Type: Current
Branch Code: 000104
IFSC Code: UTIB0000104
RTGS Code: Same as above
MICR Code: 411211004
Note: After a successful transaction, you are requested to send the following details to training@ifsacademy.org
Name of the Student:
Course Title:
Amount (Rs./-):
Transaction ID: